Liked this post? Why not share it?

If you click on my affiliates/advertisers links, I am going to receive a tiny commission. AND… Most of the time, you will receive an offer. Win/Win! The products that I advertise are the ones I believe in.

---
Recently updated on February 20th, 2021 at 02:50 pm
---
Looking for resources for learning the alphabet for toddlers? Wondering why it's important to start incorporating ABCs early in your child routine? Many of you may think that's too early to teach your 1-year-old phonetics, letters, or numbers.
Therefore, in this article, you will get a better understanding of the benefits of early learning and how to incorporate the ABCs in your toddler's teaching sessions.
Towards the end of the article, you'll find out the best resources for teaching the ABCs as well as some activities I do on a daily basis with my son.
---
Why learning the alphabet is important for toddlers?
The alphabet is very important in any person's life, but even more important for little ones, especially toddlers.
We all know that letters and sounds form words and sentences. That's how we are able to communicate with one another. This is exactly why it's important for your toddler as well – it's how they learn to speak and communicate with you and others.
The alphabet is the foundation of any language – usually what every person learns first, no matter the language, which makes it valid for children as well. The sooner you start introducing letters and sounds, the better.
Don't forget to make it fun and enjoyable for your child. This way he'll be keener to start learning.
---
---
You might also like:
---
---
When you should teach the ABC?
Wondering when to start introducing the ABC in your child's life?
The short answer to this is – ASAP!
Learning the alphabet should be one of the top priorities in any child's life. Sadly, most children begin learning and building their language skills in school. Which is not recommended at all!
These should be introduced before the age of 3. If you have no idea where to start and how to incorporate activities that can help your child learn the ABC, keep on reading for some more inspiration.
How can you help your child learn the alphabet?
There are several ways to do that. I'll share with you some materials and techniques I used to teach my son.
I recommend having at least 15 minutes of "teaching" sessions per day where you focus on a particular topic. I think it's a great idea to keep any child focused on what you are teaching him.
You can easily incorporate these sessions into your routine and he'll get used to them over time. My son gets really excited when we do these "teaching" sessions.
Tools you could use to teach a child the ABCs
toys – see in the next section our best teaching toys that I used to teach my toddler the alphabet.
activities – I have a list of activities for you to try out with your child. Keep on reading to find out.
books – one of the best tools out there. Help your child be more knowledgeable about the use of books.
printables – another good learning tool. I have some free printable ABC flashcards, ready for you to download.
songs – in my opinion, songs and books are the best ways to learn a language. But songs, are more fun, easy to remember and your toddler will most likely learn the song as well.
puzzles – there are so many ABC puzzles out there – also great for teaching shapes, letters, numbers, and sounds.
Here's an example of a teaching session, you might want to use (aka my "technique")
Remember that you don't have to inundate your child with the entire alphabet! Instead, focus on a few at a time.
choose 3 letters at a time, but make sure they are not too similar (perfect example for this is M and N)
show each letter at a time and say it out loud (phonetically)
ask your toddler: "Where is A?"
Don't get discouraged if your child won't know. It's OK to help them and show them the letter. It's all about practice and over time he'll learn and will point them out.
Here's a list of the best resources for learning the Alphabet for toddlers
This list will also include number toys, simply because many of them have numbers too. I guess it's simpler that way.
---
Toys for Learning the Alphabet for Toddlers
Personalized Wooden Letter Train. These are a great way to teach names. It integrates both play and learning, which make everything more fun. I bought one for my son last Christmas and he loves playing with it. When he gets bored, I can easily put it as a decoration in his room. Won't go to waste. See on Esty

---
Leapfrog Laptop. I absolutely love this laptop and my son too. It has 4 different modes where your little one can learn and explore more. In the letter mode, your child can listen to phonic letter sounds and a word that begins with that letter. In message mode, your child can pretend that he sends a message to a friend. In games mode, he can learn while playing. This is a little bit advanced for a 1-year-old, but great for later. And finally, in music mode, your child can listen to 16 different songs. In this mode, the keyboard makes lots of different animal or musical instruments sounds. Very interactive. See on Amazon here

---
Wooden Alpha Disks is a play set that's part of my toy store. It's handmade by myself using natural beech wood. If you prefer Montessori inspired toys for your child, these are a fantastic fit for you. See more here

---
Munchkin Bath Foam Letters and Numbers. Designed for bath time, but they can be used outside of bath too. We have 2 sets – one for bath and one for outside the bath and we play a lot with them. Our favourite activity is to hide them under pillows or in his ball pit. My son finds it very entertaining. Definitely, something to have around your home. See here

---
Vtech Educational Bus. Very similar to the laptop listed above, but this is a bus. Which makes it even more fun. I can guarantee that any little boy would love this one.
When I bought it to my son, he played with it for an entire day! He just couldn't get enough of it. Good for speach development, words, phonetics and much more. Highly recommend it! See here
---
Magnetic Letters & Numbers. This is a fun way to teach letters and numbers. They are very versatile and will last for a really long time. Later on, these are a great tool for spelling, writing and so on. You can pair them up with a magnetic board or keep it simple by using your fridge or washing machine 🙂 Details here
Printables for Learning the Alphabet for Toddlers
Alphabet Flashcards. Flashcards are an awesome way to teach your child anything. It's proven to be very effective. So why not introduce them to your toddler as well?
In fact, I made these personalized alphabet printable flashcards for my son. But you can get them too! Download for FREE!
---
---
Puzzles for Learning the Alphabet for Toddlers
Melissa & Doug Self-Correcting Alphabet Wooden Puzzle. Another excellent puzzle for older kids, maybe 2-3 years old. But 1-year-olds can still learn a lot of things while playing with it. This Puzzle comes with 52 wooden pieces – 26  with letters and 26 with images. Your child can match the letter to its corresponding image. The "self-correcting" feature means that each letter can be matched with its pair only – meaning that kids can't match a dog image with letter C for example.

---
Personalized Name Puzzles are another greay way to teach a child the ABCs. Besides learning letters, the little one will learn how to spell their name. I've bought one for my son and he loves it. Check it out on Etsy.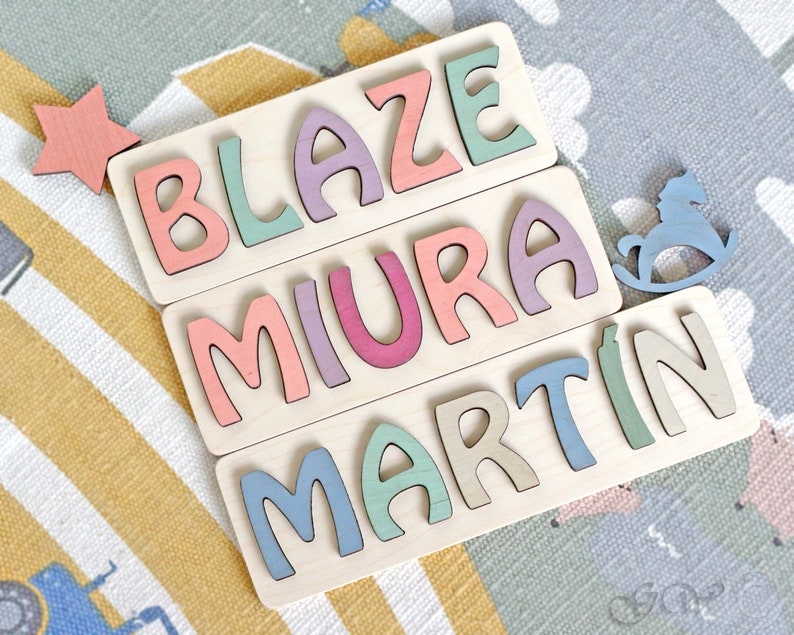 ---
Wooden ABC Puzzle. You can't have enough wooden puzzles. We have a collection of them and the ABC is one of them. See on Amazon

Activities for Learning the Alphabet for Toddlers
Here are just a few amazing activities and ways to teach letters to your child, therefore feel free to check out Pinterest for more inspiration. Try searching "alphabet activities" and you will be bombarded with tons and tons of ideas.
Hide and seek letters – it's a game we enjoyed a lot – simply hide some letters around the house and then go on a letter hunt with your little one.
Letter tracing activity – we do this activity quite a lot around our house. Take a piece of paper and start writing letters using the yellow color, then let your toddler write over them.
Here is a post with 12 amazing alphabet activities for kids
Books for Learning the Alphabet for Toddlers
Books are very important in any person's life, but most importantly in a child's life. I love reading to my son, look through books, learn new words, spot things, and many other interesting things.
I wanted to list some of our favorite books here. Books that are particularly teaching letters or numbers.
If you can't afford or you have a limited budget, I would highly recommend going to the library and borrowing. This is very good for your child as well because he will never be bored with his books. So it's a win-win.
Liked this post? Why not share it?